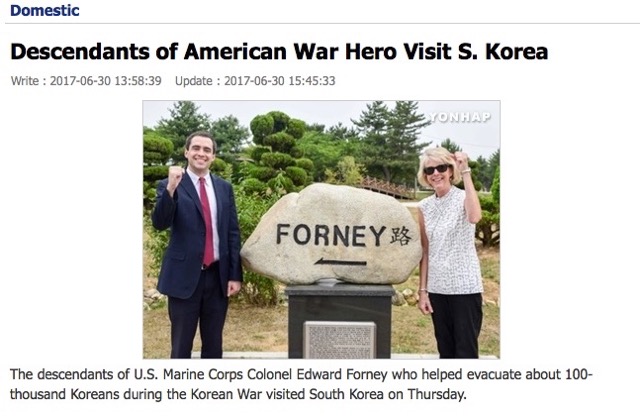 When my cousin Alice told us she'd be coming to Seoul for her first trip to Korea, we were thrilled. After somewhat randomly agreeing that she'd arrive on June 23rd and stay until the 3rd of July, we patiently waited for the big day. We had everything planned out.
Or so we thought.
What we hadn't taken into consideration when setting up her itinerary was that she'd be arriving on the weekend of June 25 and that President Moon Jae-in's first stop on his US-Korea Summit would be the National Museum of the US Marine Corps. Headlines around the world would soon be focused on the Battle of Chosin and the Heungnam Evacuation.
Wait! Stop! What does any of this have to do with my cousin visiting Seoul?
What Alice Ingle Krug, the eldest grandchild of Colonel Edward H. Forney, USMC, hadn't realized was that she had timed her Korean trip perfectly.
On June 25, 2017 – the 67th anniversary of the start of the Korean War – our family was invited by the Korean government's Ministry of Patriots and Veterans Affairs (MPVA) to attend an emotionally charged, beautifully planned and orchestrated commemorative ceremony at Jamsil Olympic Indoor Stadium. Thousands attended, including many Korean War veterans. It was an impressive start to Alice's trip.
Two days later, I flew to the US as a guest of the Korean government to attend Moon Jae-in's wreath-laying ceremony at the US Marine Corps' Chosin Battle Monument in Quantico, Virginia.
The next day, Alice, and people around the world, read about Chosin, one of the most costly and epic battles in Marine Corps history, and the subsequent Heungnam Evacuation, the operation that rescued nearly 100,000 North Korean refugees, Moon Jae-in's parents among them.
Alice was now getting a first-hand history lesson on the Korean War and her grandfather, the evacuation control officer at Heungnam who had made it a priority to load as many civilians as possible aboard US Navy and Merchant Marine ships in December 1950.
But the best was yet to come.
On Thursday, June 29, the ROK Marine Corps hosted Alice as their guest at Pohang Marine Corps Base, the installation Col. Forney helped secure for the ROK Marines in 1958. She had lunch with the Commanding Officer of the base, was given a VIP tour, and had her picture taken at the marker for Forney Road, the only road on a ROK military installation named for a foreigner. The ROK Marines made Alice's experience truly memorable, and she was even featured in the news.
And who would have guessed?
As Alice told us before she departed for the US, her trip to Korea was life-changing.
Thanks for visiting, Alice! We'll see you again in Seoul next year?
Semper Fi!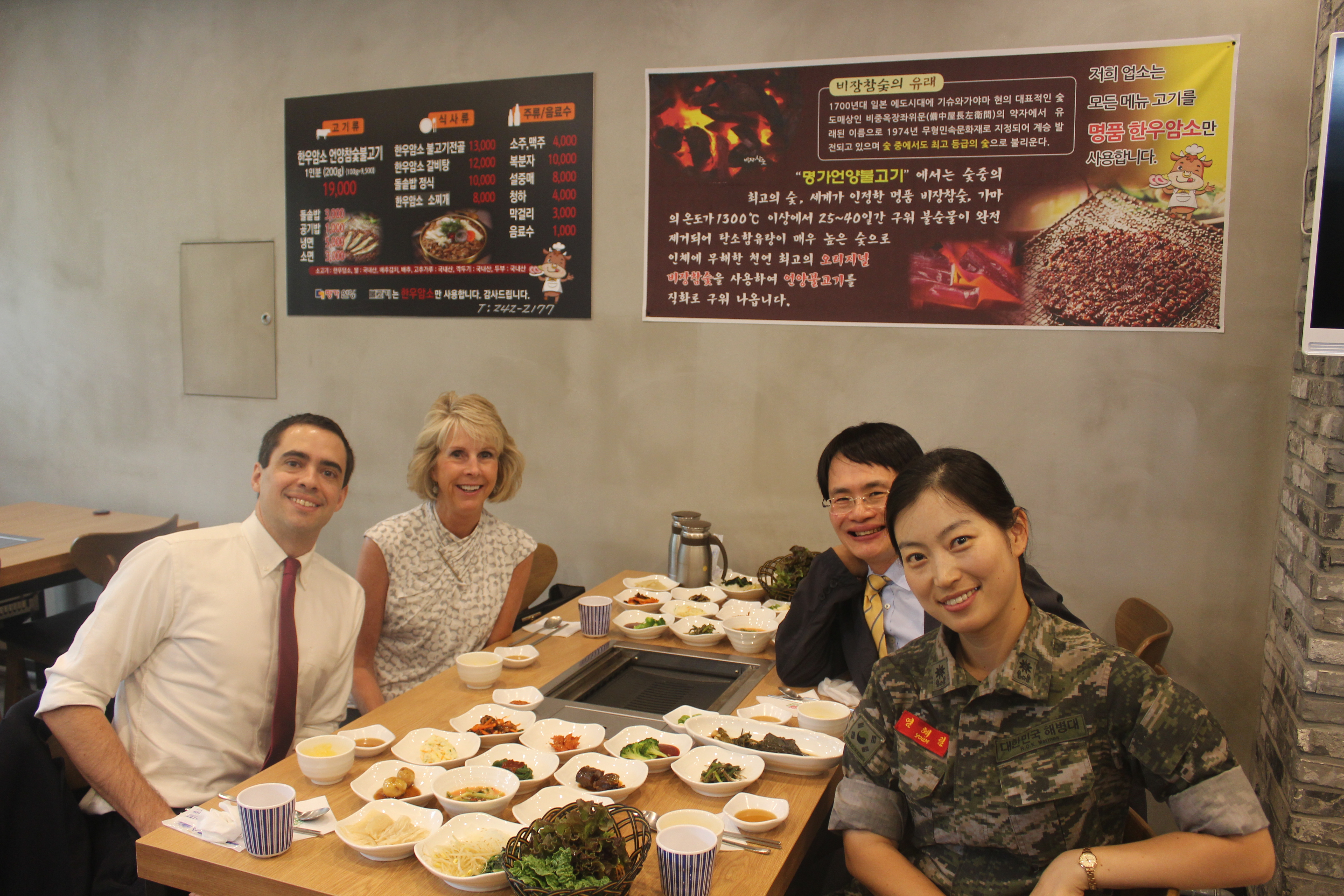 With Dr. Yang, a friend who helped organize the trip, and Major Youm Hey-lim, ROK Marine escort for the day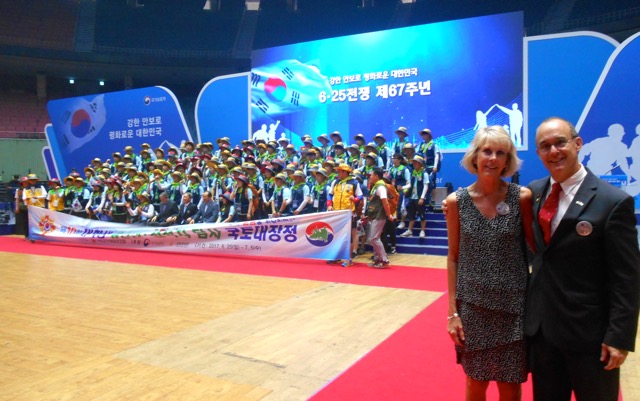 Alice and Ned at the June 25 Ceremony, Jamsil Olympic Indoor Stadium
Top photo: Ben Forney with Alice Ingle Krug at Forney Road, ROK Marine Corps Base, Pohang Photo credit: Yonghap News Agency-You can read full the article here.