Long Live the Lane Victory!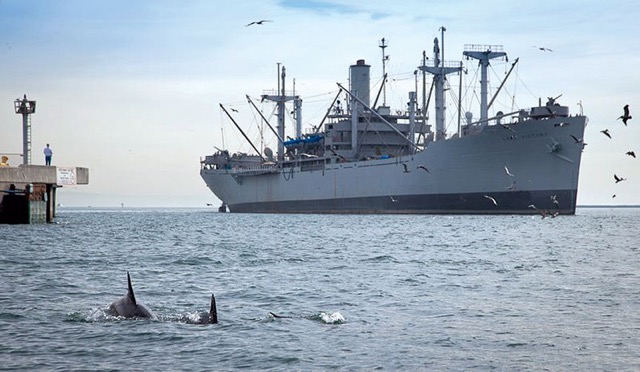 She's a survivor.
SS Lane Victory, one of 534 "Victory" class cargo ships built during World War II, has a proud and storied history. From trans-Pacific operations during the final months of World War II, to rescuing over 7,000 North Korean refugees in December 1950, to delivering supplies throughout the Vietnam War, Lane Victory and her brave crew served America honorably.
Having survived German u-boats, typhoons, mines, and the passage of time (there are only two other Victory ships in existence), she is now a floating museum at San Pedro, California, in the port of Los Angeles. Thousands of tourists and students visit her every year to learn about her contributions to American history and the sacrifices made by nearly 9,000 Merchant Mariners who perished in World War II.
But the legendary ship, named for Lane College - a liberal arts school founded in 1882 by Isaac Lane, a former slave who became a Colored Methodist Episcopal (CME) Church bishop and died at the extraordinary age of 102 - is now entering waters more treacherous than at any other time during her long career.
The prohibitive costs of maintaining a 72-year-old steel vessel in the ocean's unforgiving salt air and water has many people wondering how much longer the ship can stay afloat. There's talk of scrapping her.
Enter retired ROK Marine Corps General Yoon Kyung-won.
Yoon is spearheading efforts to bring the Lane Victory to South Korea - permanently. As the leader of a nonprofit organization raising funds for and awareness of the beleaguered ship, Yoon is passionate about keeping the memory of Lane Victory's 1950 humanitarian mission alive for future generations of South Koreans and Americans.
On December 8, 1950, at the port of Wonsan, North Korea, approximately 7,000 North Korean refugees, fleeing the approaching Chinese, were loaded onto the Lane Victory and sent south. In what many military officials at the time considered a rehearsal for an evacuation which would take place over the next two weeks 60 miles north in Hungnam, the Lane Victory became the Korean War's first Victory ship to rescue thousands of civilians in a single journey. (Remarkably, in the final days of the Hungnam Evacuation, another Victory ship, the SS Meredith Victory, doubled the number, saving 14,000 refugees during one miraculous voyage.)
I had the privilege of meeting General Yoon yesterday, and he shared his plans for making Lane Victory a floating museum at Geoje-do, South Korea's second-largest island, located about 30 miles from Busan on Korea's east coast. During the Korean War, the idyllic island became a refugee relocation center for tens of thousands of North Koreans fleeing from communism. Interestingly, Goeje is also the birthplace of South Korea's current president, Moon Jae-in, whose parents were rescued during the Hungnam Evacuation and lived on the island in the early 1950's until moving to Busan.
Yoon, who served for 33 years as a ROK Marine, believes the ship and its education programs will "help remind younger generations of the cruelty of war and the importance of peace." I agree.
I promised to help Yoon in his important and timely mission, and before leaving, I mentioned that the project will also be a wonderful way to highlight cooperation between the US and ROK. Hard work and collaboration on both sides of the Pacific will be needed to save the aging vessel.
Wouldn't it be a strange twist to an unbelievable story if Lane Victory was rescued from the scrap heap by the same country she helped save during the fateful winter of 1950? Let's hope Lane Victory has many years ahead of her.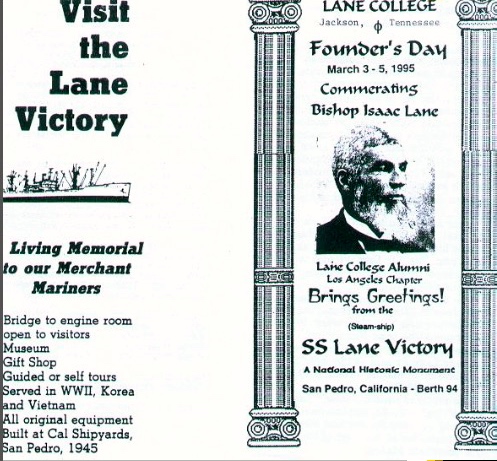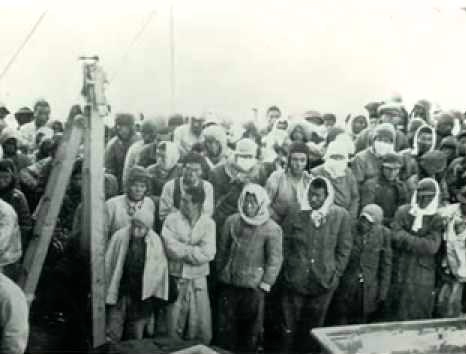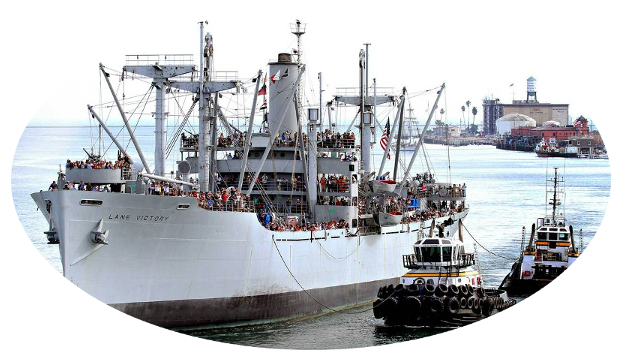 Top and feature photo: The SS Lane Victory today (photo credit: www.thelog.com)