One Restaurant, Three People, and a Dream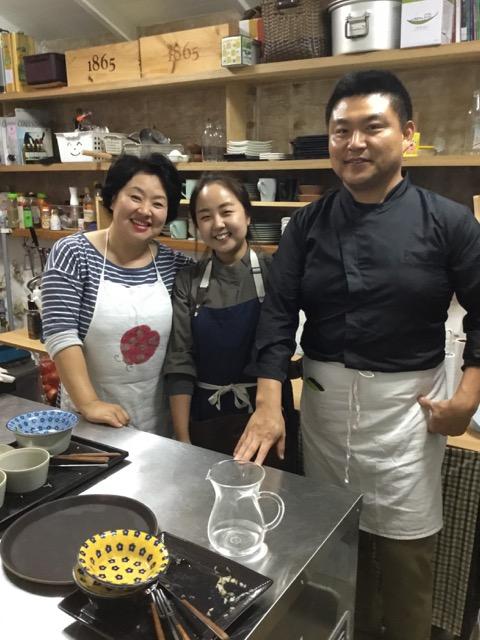 Every once in a while, whether you're in Charleston or Seoul, Rome or Busan, or your favorite vacation spot in between, you stumble upon a restaurant that's much more than just a place to get great food. It's also a little slice of home, a dash of childhood nostalgia, and a hefty serving of good old-fashioned hospitality. You feel instantly welcome, and by the end of the culinary indulgence (and retreat from reality) you're eagerly anticipating your next visit.
Unico, the word for "unique" in Italian, is such a restaurant. Located on Jeju, the largest and most popular of South Korea's island treasures, it's the kind of place that creates memories. In addition to being an establishment that Julia Child would have loved and Anthony Bourdain should visit, there's another reason - actually three - it's such an intriguing restaurant: Elena Joung, the Korean opera-singer-turned-chef who's also the owner, and her two assistants, Lim Hye-Soo and Yeo Gun-Mo (aka Irene and Massimo).
It's not too often that three talented, passionate, hard-working, and fun people get together with a similar dream. But when they do, good things happen - especially when they love to cook. Elena, Irene, and Massimo are as interesting and eclectic as the food they painstakingly prepare, cook, and serve.
Elena, the restaurant's outgoing, charismatic matron who lights up the room with her smile and can talk about food and wine in Korean, English and Italian, came to Jeju by way of Seoul, Rome, and Busan. Obviously not the most direct route, but it took her where she needed to be: a quaint Italian restaurant on a South Korean island.
When Elena was six, the movie "Sound of Music" came to Seoul. After watching it twelve times, she decided that she too wanted to be like Julie Andrews. She began taking music lessons and by the time she entered high school was an accomplished vocalist. At the age of twenty, she went to Italy to study opera at Rome's Santa Cecelia Academy, the same school Sumi Jo, the Grammy-award winning Korean diva, had attended a few years earlier.
But something unexpected happened during her time in Italy.
She fell in love. With the food. As her mother said, "My daughter went to Italy to become an opera singer and came back a chef." Nearly 30 years later, after graduating from cooking school in Ferrara, Italy; teaching cooking (and singing) in Seoul; serving as a consultant for numerous restaurants in Korea; and starting her own eatery in Busan, she moved to Jeju. A year ago, she opened Unico.
Irene and Massimo soon joined her. And they're glad they did. You can tell by the way they proudly welcome visitors to "their" restaurant and talk about Elena that they love her and Unico as much as they do cooking.
Irene, who was my interpreter during my interviews with Elena and Massimo, speaks fluent English. As I learned later that evening, she also speaks Japanese. After finishing high school in Seoul, she went to Asia Pacific University in Japan, where she graduated with a degree in international business. With everything in place for a lucrative career, she returned to Seoul, ready to climb the corporate ladder and make a name for herself. But as she soon discovered, even the best laid plans sometimes fall apart. After nearly four years of long days, longer nights, unrealistic deadlines, and stressful assignments, she realized something was missing. Her heart wasn't in it.
She wanted to cook. After much soul searching - and watching, reading, and studying everything she could about Michael Smith, Canada's most popular chef - she took the plunge. She hasn't looked back.
At 30, she's now a sous chef. When I asked what makes her so passionate about her career, she unhesitatingly responded, "People." More specifically, their faces. "When I see enjoyment in the faces of people who like my food, it makes me feel pleased, totally satisfied," she said. She's also working on a personal philosophy of cooking that focuses on helping others learn about the culinary arts. For her, cooking and teaching go hand in hand.
Massimo also appreciates the input he gets from the restaurant's visitors. Working in the kitchen and serving food gives him a feeling of gratification that's hard to put into words, he told me. His wife and young daughter support his newfound passion and hope that someday he'll achieve his dream of opening a farm-to-table restaurant. He knows it won't be easy, but you can see his eyes light up when he talks about the future.
The last thing Irene and Massimo told me, while I sipped espresso and Jodi and Elena shared stories about their dogs, is that Unico is more than a restaurant. It's a home, a school, and place that's helping them achieve their dreams. In the final surprise of the night, they mentioned that Elena is teaching them to sing (in their spare time!). She hopes the restaurant will someday be known for its award-winning food and music. It may happen sooner than she thinks.
Unico is gaining attention. Nestled amongst tangerine orchards and with a spectacular view of the surrounding countryside and ocean, it's already secured a reputation as one of those special restaurants people go out of their way to visit.
We'll be back, and to borrow the words of one of America's most famous crooners, thanks for the memories, Unico.
Top photo: Elena, Irene and Massimo at Unico
All photos are courtesy of Ned Forney