Turkey Popsicles and Frozen Gravy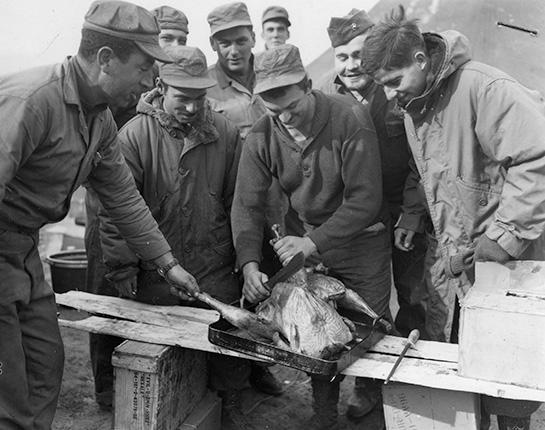 67 years ago today, men of the 1st Marine Division found themselves on the other side of the world. The Korean War was raging, and they had been sent to a cold, grey, and lonely place no one had ever heard of - Chosin, or Changjin, as it's called here in Korea.
And it was Thanksgiving.
But the Marines, like they're known to do, made the best of a bad situation. Although thousands of miles away from home, missing their families and friends, and unable to watch football or go to the Macy's parade, they could at least be thankful that someone, maybe even General MacArthur himself, had made it a priority to get every US serviceman a turkey dinner. No matter where they were.
Marines who had been marching, patrolling, and struggling to stay warm in the snow-covered, windswept mountains of North Korea for days were unexpectedly treated to a feast that even mom would have approved of: roast turkey, mashed potatoes and gravy, green peas and buttered corn, stuffing, and pumpkin pie. The food - and how it got there - was impressive.
From air drops, to truck and jeep convoys, to mess cooks personally delivering cans of chow to men on the front lines, everyone had a Thanksgiving dinner. But as hard as the top brass had tried to make the Marines feel at home, the men from big and small towns across America knew they weren't back in Jersey, Philly, Abilene or LA. They were in one of the most god-awful places on the planet.
As difficult as it was to eat the frozen, tasteless food, it was wonderful. Just the smell of the turkey and dressing made men grateful for the meal. Many imagined, if even for a brief instant, they were far from Korea and gave thanks. For hundreds of Marines at Chosin (over 700), it would be their last Thanksgiving.
The Chinese would attack two days later, beginning one of the most horrific battles in US Marine Corps history. The memory of eating cold turkey with a buddy would soon be replaced with images of hand-to-hand combat, gaping chest wounds, napalm strikes, and frozen bodies.
War may not be pleasant to think about as we enjoy our Thanksgiving meals and relax with family and friends, but today is as good a day as any to be thankful for those who've answered the call of duty: past, present, and future.
Happy Thanksgiving and Semper Fi!