Planes, Presidents, and Presentations – A Look Back at 2017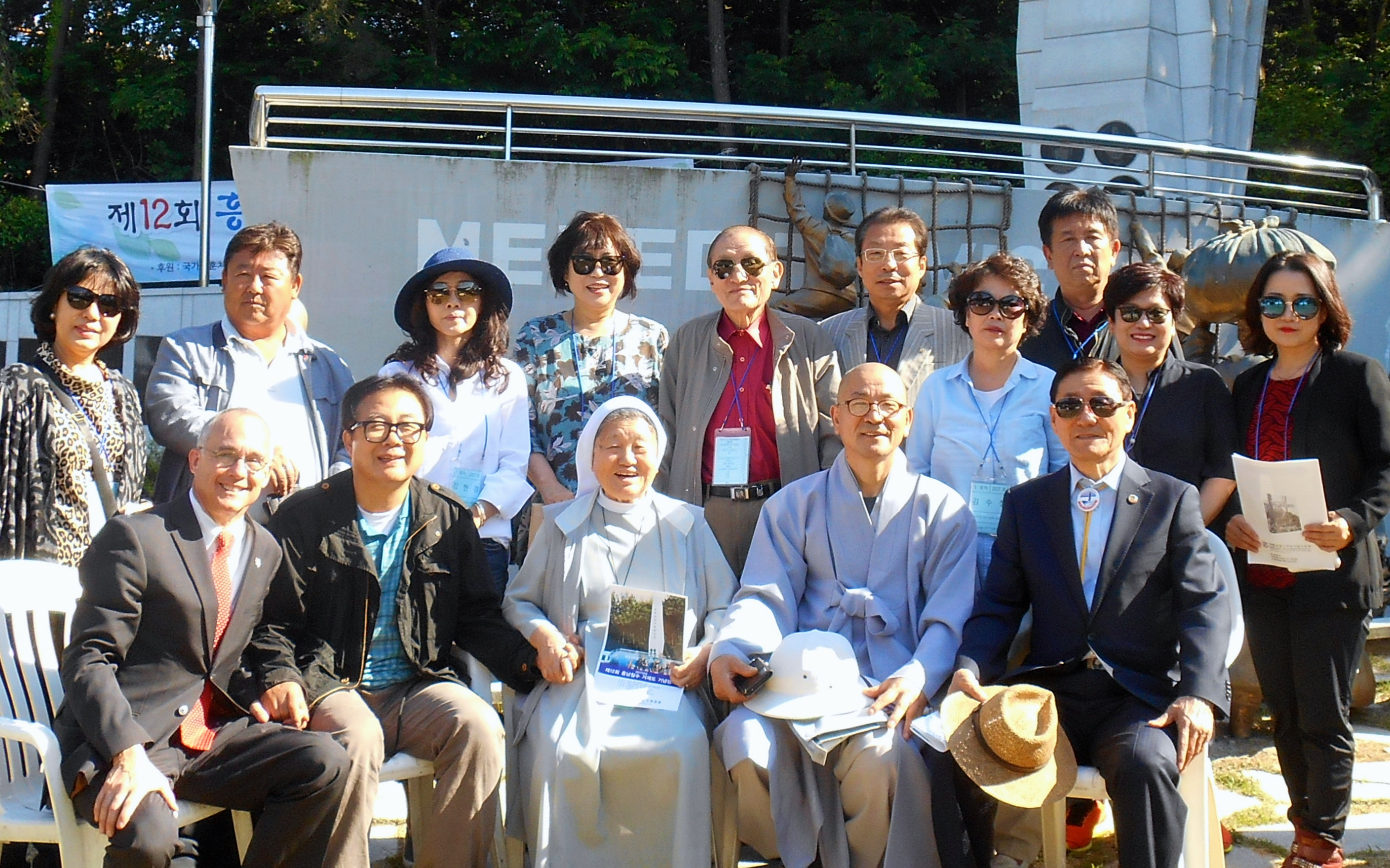 Nearly eight months ago, on May 11, 2017, I posted my first blog. I had written an article the day before for the Korea Times, Moon Jae-in: From Geoje to Cheong Wa Dae, with my reflections on the newly elected president of South Korea, and the blog reiterated some of the points I'd mentioned in the newspaper.
I talked about Moon's family, rescued from Hungnam during the December 1950 evacuation, and his early years as a refugee struggling to survive on Geoje Island. "In a remarkable testament to South Korea's open and evolving democratic political system," I wrote in the Korea Times, "the son of refugee parents, who as a young boy helped his mother sell coal to earn extra money for his family, has risen from a life of poverty to the highest elected office in his country." I also observed that the "next five years will undoubtedly bring new and unforeseen challenges to the people of South Korea." (Eight months later, politicians and pundits are now predicting the growing tension in Korea and the possibility of a conflict erupting on the peninsula will be the lead story of 2018).
At the end of May I spent two days on Geoje Island with a group of former Hungnam refugees. I was a guest of the Hungnam Evacuation Memorial Committee and gave a speech about the unprecedented humanitarian operation that saved 100,000 North Korean civilians during the Korean War. I began my remarks with:
Today, as we commemorate the 67th anniversary of the largest sea-borne, combat evacuation of civilians in US history, we remember the sacrifices made and the courage demonstrated by those who participated in, and were rescued at, Heungnam during the terrible winter of 1950.
Spending time with the amazing men and women, who nearly seven decades earlier had escaped from North Korea, was one of the highlights of my year.
In late June, I flew to Quantico, Virginia. Invited by President Moon to attend his first speech in the United States, I was one of a handful of Americans to witness Moon's fitting tribute to the men who fought at the Chosin (Changjin) Reservoir and participated in the Hungnam Evacuation. During the ceremony, held on June 28, Moon laid a wreath at the National Museum of the Marine Corps' Chosin Memorial and gave a heartfelt speech thanking the US servicemen who had done so much to save his parents. "Without the success of the Hungnam Evacuation," Moon told his audience, "I would not even exist today."
In my article that day for the Korea Times, I thanked the Korean government for inviting me to the ceremony. I was honored to represent my grandfather, the late Marine Colonel, Edward H. Forney, who was the evacuation control officer at Hungnam and a key player in the operation's success.
In a strange geographical twist, my cousin, Alice Ingle Krug, Col. Forney's first grandchild, visited Korea while I was in Virginia. Along with my son, Ben, and our friend, Dr. Yang, she traveled to Pohang, South Korea, where, as a guest of the commanding General of ROK Marine Corps Base Pohang, she was given a VIP tour of the facility. She stopped at Forney Road, named in recognition of Col. Forney's contributions to the ROK Marine Corps; it is the only street on a ROK military installation named for a foreigner.
Less than a week after returning to Seoul, I went to a conference in Busan and visited the United Nations Peace Memorial Hall and the nearby United Nations Memorial Cemetery, the only UN cemetery in the world. The afternoon was a powerful reminder of war's terrible cost.
By early September, with the world's attention focused on North Korea's missile launches and Kim Jong-un's claims of detonating an "advanced hydrogen bomb," I interviewed Wall Street Journal Seoul Bureau Chief, Jonathan Cheng, and wrote a blog on the developing crisis. That same month, I attended a ceremony commemorating the 67th anniversary of the Inchon Landing. The morning I left for Inchon, North Korea launched another missile. "The timing was uncanny," I wrote in the blog about the September 15 ceremony and North Korean provocations.
In late October, with fall leaves in full color and the weather turning cooler, John Lee, a Korean interpreter for the US Marines during the Chosin Reservoir Campaign, and I attended a Korean government ceremony honoring Chosin veterans. It was a moving and memorable event, with US and ROK veterans in attendance and Pi Woo-jin, the Minister of Patriots and Veterans Affairs (similar to the VA in America) and Major General James Lukeman, the Commander of US Marine Forces in Korea, paying tribute to the men who fought at the historic battle.
It was now November, and I was busier than ever.
From President Trump's first visit to South Korea, Veterans Day ceremonies, and the Marine Corps Birthday Ball, to a trip to Jeju Island and Thanksgiving Day "Korean style," there was plenty to do and write about. Along with two articles, one for the Korea Times and the other for Koreanet, I also wrote two blogs that became the most popular and shared stories of the year: one is about Lee Byung-young, a Korean photographer who hopes to photograph Korean War veterans from every country that participated in the war, and the other is about Bob Lunney, a former officer aboard the Meredith Victory, and his Captain, Leonard LaRue. I felt privileged to tell their stories and was glad so many people read and enjoyed them.
And just when I thought things were winding down, December hit. It was a blur.
I participated in a Korean War seminar at Korea University, went to the DMZ, attended a one-year anniversary tribute to Dr. Hyun, and traveled to NYC to give a Hungnam Evacuation presentation at The Korea Society, with Bob Lunney. Spending time with Mr. Lunney and friends and relatives (my brother, John, came from Charleston, SC) was a fitting end to the week leading up to the holidays. And then I celebrated my 10-year wedding anniversary, Christmas, and New Year's.
Whew! What a month and year.
Reflecting on 2017 in this, my 60th blog, I feel honored that I've had the opportunity to tell these tales and grateful that they are being read and shared. Jodi and I are on an incredible journey. Together (I couldn't do any of this without her) we're sharing the story of the Hungnam Evacuation and trying to keep the memory of the Korean War veterans and refugees alive for future generations. Their stories deserve to be told and remembered.
Happy New Year and Cheers!