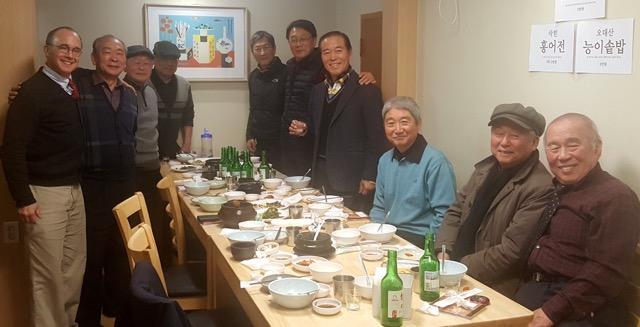 They're a loyal, fun-loving bunch. The former North Korean refugees, men now in their seventies and eighties, get together four times a year to have dinner, reminisce, sing, and give thanks for the opportunity to live in a free, democratic country.
It all started five years ago when, on a whim, a few members of Busan High School's Class of 1964 met and decided it was time to share their memories of the Korean War and childhood years in Busan. After a few bottles of Soju and much deliberation, they promised to meet every January 4th, March 8th, September 28th, and June 25th.
And why those specific days, you may ask?
Having escaped from North Korea between 1950-1951, the dates reminded them of the hardships they endured as young boys.
January 4, 1951, is the day Communist Chinese and North Korean forces recaptured Seoul; March 8th, or "3/8," is symbolic of the 38th parallel, the dividing line between North and South Korea; September 28, 1950, is the day UN forces liberated Seoul after landing at Inchon weeks earlier and fighting their way to the capital; and June 25, 1950, marks the beginning of the war, the day North Korean troops and tanks crossed the border into South Korea.
A few nights ago I attended their January 4th reunion. I was the guest of Lee In-Jae, a good friend who occasionally invites me to the annual meetings. Mr. Lee is a successful businessman who now lives in Seoul. Sixty-seven years ago, in December 1950, he escaped from North Korea, fleeing from Hungnam on a US ship with his parents. After a grueling three-day journey, they disembarked at Goeje-do, an island off the southeast coast of Korea, to begin their new lives as refugees.
Although only six when he left, Lee vividly remembers the evacuation. Snapshots of the operation are seared in his memory: smoke billowing from bombed-out factories in and around Hungnam; a freezing beach where he waited for a ship to take him and his parents to freedom; and his gloves disappearing in a violent gust of icy wind. He's never forgotten the distinct sound of naval gunfire rounds whooshing through the night air and explosions in the nearby mountains shaking the ground.
Lee Soon-Young, another member of the Busan High School group, attended the dinner and also shared incredible stories about escaping from Hungnam. Like his friend Lee In-Jae, he, too, was a young boy when his family left North Korea. He remembers boarding a train one night at Hamhung, about 10 miles from Hungnam, and, with thousands of other civilians, making his way to the coast. His family had heard rumors that US ships were taking refugees to the South.
After the coldest, most frightening train ride of his life, Soon-Young, or "Mad Dog" as his friends now call him, arrived in Hungnam. Three days later, the family boarded an LST, a military vessel designed to carry tanks and troops, and sailed to Geoje, escaping the approaching Chinese. He doesn't remember much about the trip other than being wretchedly thirsty and someone offering him a drink from a canteen. He was later told that his mother delivered a baby boy during the voyage. Tragically, the infant died shortly after birth and was buried upon their arrival at Geoje.
As the stories and drinks flowed throughout the evening, the vivacious, seemingly ageless former refugees repeatedly gave thanks to the US servicemen who had rescued them. They toasted Col. Forney and Dr. Hyun Bong-Hak, referring to them as heroes, men, they said, who had made it a priority to save them and 100,000 of their countrymen.
It's an evening I'll always remember. Before leaving, I told them I was grateful for their friendship, honored to be invited to their celebration, and inspired by their ability to overcome adversity, hardships, and family tragedies. They are proud of their past and have worked hard to become successful businessmen, church, community, and civic leaders, and most importantly, exemplary citizens of the Republic of Korea.
Thanks for a great night, guys. Here's to Busan High School's Class of '64!