Teamwork, Freedom, and Choco Pies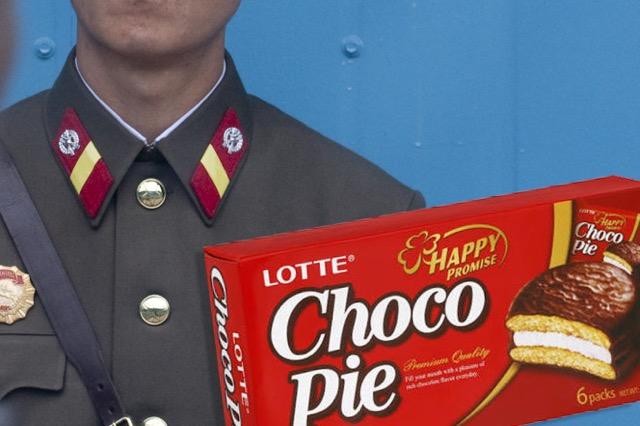 Remember the footage a few months ago of a North Korean soldier dashing across the border into South Korea, his fellow countrymen frantically chasing, yelling, and firing their guns at him? The video was seen by millions around the world.
In the hours immediately following the dramatic escape, the 24-year-old, riddled with bullets and bleeding profusely, hovered between life and death. His chance of survival looked dim.
On his way to Ajou University Trauma Center aboard a US Black Hawk helicopter, the critically injured man, later identified as Oh Chong-Song, nearly died. But US Army medic Sgt. 1st Class Gopal Singh, realizing his patient's lungs were about to collapse, plunged a 3-and-a-half-inch needle into the man's chest. According to doctors who later reviewed the medic's actions, the procedure, called a thoracotomy, most likely saved Oh's life.
The pilot, Chief Warrant Officer 2 Nathan Gumm, an Iraq and Afghanistan veteran, also did his part to save the North Korean defector. Taking his Black Hawk to a top speed of 160 mph, Gumm made every minute count, landing at the trauma center with only seconds to spare.
Once safely on the ground and in the hospital, Oh came under the care of Dr. John Cook Jong Lee, the trauma center's head surgeon. In an exhausting and dangerous five-hour operation, Lee and his team patched, plugged, and probed the severely wounded soldier. Five bullets had pierced him, one ripping into his intestine, revealing a mass of squirming, writhing worms. Lee was shocked. He'd never seen so many parasites living inside a human body. The surgeon carefully removed them, amazed at the number of engorged worms he eventually pulled out of the man's blood-filled bowels.
Miraculously, Oh stabilized. He was in critical condition, but the worst was over. After numerous follow-up surgeries, the former NK soldier awoke. He was told he was in South Korea and free. One of the first things he asked for when his appetite returned was a South Korean "Choco Pie," a chocolate-covered, marshmallow-filled cookie that's hugely popular on both sides of the DMZ. His wish was granted, and he soon had more Choco Pies than he could ever dream of eating. The company that makes the best-selling snack had sent him 100 boxes of the cookies and told him they'd provide him with a lifetime's supply of the iconic treats. He knew he wasn't in North Korea anymore.
It's been over two months since Oh Chong-Song made his daring escape to South Korea and despite complications from hepatitis, he's expected to recover fully.
Looking back at the event, it's amazing he survived. Mr. Oh's story is a moving testament to two medical teams - a US medevac crew and a group of ROK trauma surgeons, led by Dr. Lee - that worked together to save his life.
The high standards of professionalism exhibited by the five members of the US Army 2nd Combat Aviation Brigade medevac team were commendable and illustrate the knowledge, expertise, and dedication of American men and women in uniform. It's comforting to know that no matter the place, time, or situation, the US military is prepared.
Oh's story also demonstrates the remarkable talent and experience of Dr. Lee, the South Korean surgeon trained at UC-San Diego, who credits his time working with US military doctors as one of the reasons Oh survived. He's proud of his connection with the American medical community and in a recent interview for The Atlantic said, "This trauma center was designed by American surgeons. I have been working with them as part of their team since 2003." For years, Lee has been considered the top trauma surgeon in Korea, but over the past two months he's also become somewhat of a celebrity. For good reason.
Lee's also proud of his family connection to the United States. His father served in the Korean War "fully supported by Americans" and his two ROK Marine uncles fought alongside US Marines in Vietnam. "Now I'm doing my job with American soldiers stationed in South Korea," he explained in The Atlantic. "Is this not a great chain reaction?"
Thanks to the medevac crew and Dr. Lee, Mr. Oh is now a healthy and free man. He's also grateful. He has repeatedly told his medical team how thankful he is for everything everyone did to save him. The world wishes him well. It won't be easy adjusting to his new life in South Korea - it never is for North Korean defectors - but as Sgt. 1st Class Singh told Stars and Stripes in a recent interview, Oh is tough. He was "fighting" for his life during the entire 22-minute flight to the trauma center, Singh recalled. "It's truly a miracle [he's alive]."
A job well done to everyone who played a part in this incredible story and God speed to Mr. Oh, a young man who can now live in a country that honors and protects human dignity and liberty.
Top and featured picture photo credit: The NY Post