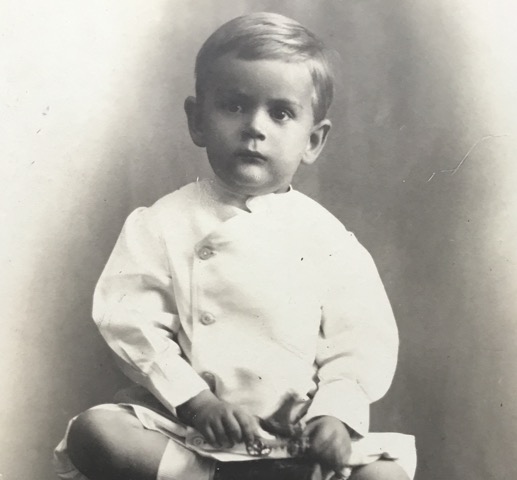 He's one of the main reasons I'm in Korea, but he died when I was two, and our family rarely talked about him. He's always been, in the words of Winston Churchill, "a riddle, wrapped in a mystery, inside an enigma." After spending over three years researching the man who's made such an impact on me, I've pieced together the "who, what, where, and when" of his life, but it's the "why" I can't figure out.
Why did he do this? Why didn't he do that? The questions are endless, and the more I research, the less I seem to know. Why did he become a Marine? Why was he willing to risk so much - his reputation, career, and life - to help save tens of thousands of people he didn't know? Why did he divorce his wife during World War II and have little contact with his children? Why was he such a serious and reflective man? Unfortunately, as time goes by, I'm not sure I'll ever find the answers.
But here's what I do know. He was born in 1909 in Denver, Colorado. His parents had left the East Coast just days after their wedding and headed West for a new life of adventure on America's frontier. Things didn't work out, however, and their dream of making it big out West went bust. The young family returned to Washington, DC, and over the next 15 years, lived in the nation's capital, New York City, Havana, Cuba, and Hollywood, California. The father, an engineer and a bit of a nomad it seemed, was always looking for the proverbial pot at the end of the rainbow, or at least a steady, good-paying job.
I also know the son attended military high school and graduated from the US Naval Academy. In his 1931, senior yearbook writeup he's described as "a wanderer," and someone who, "has not much natural ability, but by the dint of hard work [has] won laurels that make some of the more fortunately endowed ones a little envious."
After his college days at Annapolis, he entered the US Marine Corps and in the mid-1930's served on a WWI-era battleship as a member of the crew's Marine detachment. During World War II, he fought at New Georgia and Bougainville, distinguishing himself in terrifying, jungle firefights and deadly, beach assaults. In the post-war years, he worked at the Pentagon and graduated from the Armed Forces Staff College. He was now considered one of the Marine Corp's top amphibious experts.
In the spring of 1950 he was sent to the Far East to train Army troops in ship-to-shore operations. Off the coast of Japan when the Korean War started, he began working with MacArthur and his staff to develop a strategy to defeat Kim Il-sung's Army. For the next six months, he served as the Deputy Chief of Staff for X Corps, helping plan and implement the landings at Inchon and Wonsan. His finest hour came in December of 1950, when, as the Hungnam Evacuation control officer, he organized the withdrawal of over 100,000 servicemen - and their equipment, supplies, and vehicles - and evacuated over 100,000 North Korean refugees, the largest US amphibious evacuation of civilians, under combat conditions, in American history.
But I also learned that he had faults. In one of the great "why's" of his life, he returned from the Pacific during WWII, divorced his wife and remarried a few weeks later. While doing his part to defeat Fascism, he had ignored and, ultimately, ruined his family. Sadly, his son and daughter grew up without a father. I can only imagine the pain and loneliness they felt, knowing he'd abandoned them. Tragically, they missed out on one of the most important relationships in life, something I've always taken for granted, a relationship between a loving father and his children.
The story ends on January 21, 1965, at Presidio's Letterman General Hospital in San Francisco. With his once athletic body now wracked with cancer, he died at the young age of 55. No one knows what caused the disease, but he'd been a life-long pipe smoker and had been stationed in Nagasaki, Japan, immediately after the war. He was buried at Arlington National Cemetery.
Despite his imperfections, I respect this man, Col. Edward H. Forney, my grandfather. Living in Korea, people frequently tell me how grateful they are for him, the Marine officer who loved their country and even returned to it in 1957 to serve as the senior US Marine Corps advisor to the ROK Marine Corps. His connection with Korea continued throughout his life.
Colonel Forney's life reminds me that, like most of us, he was a complicated person. I'll never know what was going through his mind during Hungnam or on the beaches and jungles of New Georgia and Bougainville. And I'll certainly never understand some of his personal decisions. But I admire him all the same. He was a man who, despite his flaws, made the world a better place. There's an entire country and an estimated one million descendants of refugees rescued at Hungnam who would probably agree with me.
On this, the 53rd anniversary of his death, I pay my respects to the Marine I never knew.
Semper Fidelis!
Author's note: This is the first of a series of posts about Col. Forney that will appear throughout the year. 
Top picture: Forney in Havana, Cuba, circa 1914. (Photo courtesy of Ned Forney)