Small Town, Big Heroes: South Charleston, West Virginia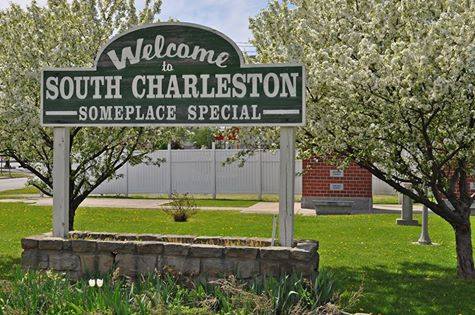 I've never visited South Charleston, West Virginia, but after spending the past two days reading about the small city, located four miles west of the state capital and on the south bank (hence its name) of the Kanawha River, I feel like I've been there. I know it has six elementary schools and a middle and high school; an ice arena and community center; two hospitals, Thomas Memorial and St. Francis; and approximately 13,000 citizens. It's also home to the popular country music and bluegrass singer, Kathy Mattea. South Charleston is the quintessential all-American town.
It is also, I discovered, a very patriotic and proud place. And for good reason.
Two men from South Charleston, one who died in World War II and the other during the Korean War, are Congressional Medal of Honor recipients. It's remarkable that a such a small town is home to two servicemen - a soldier and Marine - who received America's highest award for valor.
In my research this week, I first came across the story of Darwin Keith Kyle. 
"Gus," as his family and friends called him, was born in 1921 in Jenkins, Kentucky. He moved to West Virginia as a child, grew up and went to school there, and in November 1939 – just weeks before the attack on Pearl Harbor – enlisted in the Army. As a soldier fighting against the Wehrmacht in France and Germany, he was awarded the Bronze and Silver Stars for heroism in combat. At the war's end, he returned to his wife and home in South Charleston and by 1950 was the father of two daughters: Donna, 5, and Nancy, 4.
With the outbreak of war in 1950, he found himself, once again, on the battlefield. This time in Korea. He had reenlisted in the Army in 1947 and was now a Master Sergeant with the 7th Infantry Regiment, 3rd Infantry Division. On December 24, 1950, the final day of the Hungnam Evacuation, Kyle performed an act of selfless courage that earned him the Soldier's Medal and a battlefield commission.
As the last troops disembarked from the Hungnam port on Christmas Eve, a huge explosion from a nearby ammo dump ripped through the beachhead, spraying jagged, hot shrapnel among soldiers loading onto small landing craft. With the beach engulfed in flames, Kyle pulled wounded and dying men from the raging fires and secondary explosions. He also managed to maneuver a landing craft filled with soldiers away from the beach, saving the men inside from another major explosion that occurred only moments later. According to eyewitnesses at the scene, without Master Sgt. Kyle's efforts, the vessel would almost certainly have been destroyed.
But six weeks later, on February 16, 1951, Kyle, now a 2nd Lieutenant, ran out of luck. While leading his men against a Chinese unit near Suwon, South Korea, his platoon came under a fierce enemy attack and began taking casualties. Exposing himself to withering machine-gun fire, the lieutenant led his men up a snow packed, wind-swept hill, taking the fortified position and personally killing seven Chinese, four in hand-to-hand combat. Minutes later he was mowed down by an enemy soldier. 
Sergeant James Yeomans, one of the men in Kyle's platoon that day, attributed the lieutenant's bravery to saving the unit. "He was the bravest man I ever saw," Yeomans said. Kyle was awarded the Medal of Honor posthumously, and his wife, Betty, and two daughters were present to receive his decoration. His mother, in an interview about her son in the Charleston Gazette, said he was "Always a great kidder and full of fun . . . he never saw the dark side of a situation." In 1955, a ten-classroom elementary school in South Charleston was named in his honor.
***
And then I read about Herbert J. Thomas, the first Medal of Honor recipient from South Charleston. 
As I scanned the internet looking for more information on Lt. Kyle, I kept seeing references to Sergeant Thomas, a Marine who had fought at the Battle of Bougainville. My grandfather, also a Marine, had served on the god-forsaken island at the same time as Thomas, and I was familiar with the tales of incredible brutality and suffering that occurred during the US Marine offensive there from November 1943 to November 1944.
Thomas, born in 1918, grew up in South Charleston, graduated from South Charleston High School, and attended Virginia Polytechnic Institute, more commonly known as Virginia Tech, where he became a football standout. In 1942, just two months prior to graduation, he left school, and after a brief stint in the US Army Air Corps, enlisted in the Marines.
By late 1943, he was serving in the Pacific with 3rd Marine Division. On November 7, while leading his squad in an attack against a fortified Japanese position on Bougainville, a fatal mishap occurred.
After making their way through dense, almost impenetrable, jungle growth and taking out two enemy machine gun emplacements, Thomas and his squad stopped to prepare for an assault on a third and final machine gun crew. As the attack began, Thomas lobbed a hand grenade towards the enemy, but in an terrifying twist of fate, it bounced off a thick overhead vine and landed among his men. To save the lives of his fellow Marines, he dove on the grenade, smothering it with his body. He died instantly.
Minutes later, his men stormed the machine gun nest, killing the remaining Japanese and securing the area. Sergeant Herbert Thomas was posthumously awarded the Medal of Honor for his heroism. He was survived by his father and sister.
In March 1945, a US Navy destroyer, the USS Herbert J. Thomas, was named in his honor, and a year later Thomas Memorial Hospital in South Charleston was opened. In 1949, a newly-built dormitory at Virginia Tech,Thomas Hall, was named for him, and more recently, in 2015, a Hall of Honor was built at Thomas Memorial Hospital to pay tribute to the Marine sergeant and all US veterans. 
Attending the hall's unveiling ceremony on December 8, 2015, was US Marine Hershel "Woody" Williams, also a Mountain State native, and the last surviving Medal of Honor recipient from Iwo Jima. Williams was recently recognized at Super Bowl LII, where he flipped the opening coin in front of millions of viewers around the world.
Kyle and Thomas' lives are testaments to the "greatest generation," and looking back on South Charleston's proud history, I'm reminded that there are hundreds, probably thousands, of such small towns across America.
As an American and a veteran, I'm grateful for these cities and for the men and women who call them home. 
Click on the pictures below for a larger view.
Top photo: South Charleston, West Virginia (Photo credit: wvamuseums.org)